Contact Us
(206) 583-2282
Radical Prostatectomy
Surgical treatment for prostate cancer involves removing the entire prostate and seminal vesicles, a procedure called radical prostatectomy (RP). When the cancer is confined within the tissues, surgery alone can cure localized prostate cancer. The Prostate-Specific Antigen (PSA) level in the blood should fall to undetectable levels after radical prostatectomy. PSA thus becomes an excellent test to detect even small amounts of residual cancer.
Surgery is followed by an average hospital stay of 1 to 2 days and an average time away from work of 2 to 6 weeks. Patients are given an opportunity to donate their own blood before surgery. This blood can be given back to you during the operation. (Less than 5% of patients require blood transfusion during or after radical prostatectomy.) A catheter is inserted through the penis and into the bladder at the time of surgery. The catheter stays in place for 6 to 14 days and allows the bladder anastamosis (attachment to the urethra) to heal.
Anesthesia
The decision as to which type of anesthesia to employ during surgery is made between the patient and the anesthesiologist. Typically, patients and their families meet with the anesthesia service in the days prior to surgery to discuss their general medical heath, previous anesthetic experiences and specific anesthetic related concerns.
Three general categories of anesthesia are used for RP: general, regional or combination (general and regional). Multiple factors go into the decision as to which technique to use: patient preference, patient anatomy, medical history and post-operative pain control needs. These issues are addressed with each patient during the pre-operative anesthesia visit.
Post-operatively, pain is managed by the Virginia Mason Pain Management Service. This unique program is available at Virginia Mason 24 hours a day. We expect that the post-operative period will be relatively comfortable. Usually an epidural catheter or intravenous patient-controlled anesthetic device (PCA) is used for the first 24 post-operative hours. Following that initial period, pain pills are used to keep patients comfortable.
There are two main types of radical prostatectomy - radical retropubic prostatectomy (RRP) and laparoscopic radical prostatectomy (LRP).
Radical Retropubic Prostatectomy (RRP)
In the retropubic operation, the surgeon makes a skin incision in the lower abdomen. If indicated, a lymph node dissection (PLND) is performed prior to removal of the prostate. The lymph node dissection is a staging procedure (performed to more accurately determine if prostate cancer is present in the lymph nodes).
Following the PLND, the prostate is removed from both the bladder and the urethra. A nerve-sparing prostatectomy may be performed with this approach. During this procedure, the surgeon carefully spares the small bundles of nerves located on either side of the prostate gland that are needed for erections.
With the prostate removed, the bladder is sewn to the urethra. A catheter is placed through the penis and remains in place while the tissues heal. The catheter is subsequently removed in the clinic 10 days later. An RRP typically takes 1 ½ to 2 ½ hours to perform.
Robotic Assisted Laparoscopic Radical Prostatectomy (LRP)
LRP is a minimally invasive technique used to remove the prostate in patients with prostate cancer. The surgeon performs the procedure through five 1-cm incisions spread in a fan shape across the abdomen above. Surgical fields are viewed with the use of a laparoscope (a camera inserted through one of the incisions).
At Virginia Mason, surgeons performing LRP use a robotic surgical assist device called "The da Vinci® Surgical Robot". This robotic system employs the latest advancements in surgical robots.
The term "robot" is really a misnomer. The device is merely an extension of the surgeon's hands. There are several components to the robotic system. A surgeon's console, where the operating surgeon sits and controls the instruments (figure 1), the robotic arms, which are at the patient's side and hold the camera and instruments used during the operation (figure 2) and the instrument cart, which provides lighting and additional viewing capabilities. Surgical robots, such as the da Vinci® robot, allow surgeons to perform much more complex laparoscopic surgical procedures with greater ease and precision (figure 3).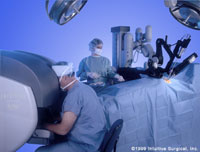 Figure 1
Figure 2
Figure 3
Virginia Mason Hospital was the first hospital in the Northwest to obtain the da Vinci® robot in 2001, and since that time surgeons at Virginia Mason have used it routinely to perform a variety of surgical procedures including LRP. On average 4 to 6 LRPs are performed weekly at Virginia Mason.
Patients considering surgical treatment for their prostate cancer have common concerns: cure; recovery; urinary continence and sexual function.
While the LRP is as effective in treating patients with prostate cancer as open surgery, patients who undergo an LRP can expect a quicker return to daily activities, less surgical scarring, and less postoperative pain when compared to traditional open surgery. Patients undergoing LRP can expect a hospital stay of 24 to 48 hours.
Return of urinary continence and sexual function following LRP has shown excellent results (see below).
Operative times are 2 ½ - 3 ½ hours.
While not all patients with prostate cancer are a candidate for the laparoscopic approach, most are and should discuss this with their surgeon.
Side Effects
Risks associated with all radical prostatectomy techniques (RRP and LRP) are similar to those of any major surgery. The level of risk depends in large part on the patient's overall health and age. Rare risks include cardiac or pulmonary events, blood clots or injuries to structures surrounding the prostate. The primary side effects unique to a radical prostatectomy are incontinence and impotence.
Urinary Control
Following surgery, significant bladder control returns within 11 weeks and continues to improve over 12 months. Four percent of patients have persistent, severe post-operative incontinence. This group of patients will wear pads, take medication or undergo further procedures to treat this side effect. Mild stress incontinence, which is passing a small amount of urine when coughing, laughing or sneezing, may persist in 4 percent of patients. These men may choose to wear pads to protect themselves from unexpected leakage.
Of patients who undergo a prostatectomy at Virginia Mason, 92 percent have excellent urinary control and require no pads or other means of protection.
The nerves responsible for achieving erections are located on either side of the prostate coursing toward the urethra. The nerves travel outside of the gland and around the penis.
Sexual Function
Sexual dysfunction is a common problem in both men and women. Sexual problems become progressively more common with aging, heart disease, high cholesterol and diabetes. Prostate cancer and the treatment of prostate cancer can have significant impact on sexual function. At diagnosis, we assess voiding and sexual function based upon baseline sexual function, patient age, risk factors and disease stage. We provide counseling to the patient and his partner about anticipated changes in sexual function and try to predict the likelihood of preserving and recovering sexual function after prostate cancer treatment.
Nerve-sparing prostatectomy is performed if there is no indication of tumor involvement within the nerves surrounding the prostate, called the neurovascular bundle. A unilateral nerve-sparing procedure will save the nerves on one side of the prostate. A bilateral nerve-sparing procedure saves the entire neurovascular bundle, the nerves on both sides of the prostate. Patients with locally advanced tumors or with an extensive posterior tumor are not offered nerve-sparing surgery because of concerns about leaving cancer at the margins.
Men who have "normal" pre-operative function (International Index of Erectile Function Score of >20) have a 72 percent likelihood of having erections that are adequate for penetration following a bilateral nerve-sparing operation. Twenty-five percent of these patients do require Viagra® in order to obtain their maximal level of potency. If a unilateral nerve-sparing procedure is performed, 38 percent of men will have erections that are adequate for sexual activity. Fewer than 10 percent of men who undergo a non-nerve-sparing procedure have erections that are adequate for penetration.
In our experience, men who are younger than age 60 and those who have the highest levels of pre-operative sexual function have the best outcomes in terms of potency. Interestingly, men who have less aggressive tumors also have a better outcome in terms of potency.
Sural Nerve Graft
At Virginia Mason, we perform a new technique in nerve replacement surgery for preservation of sexual function in situations where either unilateral or bilateral nerve resection is required.
Sural nerve transposition is a technique performed in conjunction with our colleagues in the Section of Neuro-Oncology. The technique involves the transplantation of a short section of the sural nerve from the ankle to the space previously occupied by the prostate's neurovascular bundle. The transplanted sural nerve functions as a scaffold through which the cavernosal nerve (a main nerve of the penis) re-grows. The procedure adds about 45 minutes to the typical operative time of a standard nerve-sparing RP. Additional side effects include numbness along the side of the foot and discomfort from the healing wound on the outside of the ankle.
At Virginia Mason's CPCC, over 50 percent of men undergoing a unilateral sural nerve graft have post-operative erections that are adequate for penetration.
Potency Recovery
Several studies have shown that even with bilateral nerve-sparing surgery, there is often a several month interval before a patient recovers normal erection. There are several potential explanations for this time delay: transient nerve injury, postoperative psychological issues and a history of infrequent and nonrigid erections, which affect the flow of oxygen to and the subsequent health of penile tissues. We have found that the delay in the return of potency can be improved by several approaches. First, by employing a careful surgical technique, one is able to minimize potential trauma to the nerves. Second, by providing a comprehensive preoperative counseling program for the patient and his partner, one is able to address postoperative concerns and minimize the psychological impacts of surgery. Finally, by providing early, pharmacologic erections with the drugs listed below, one can avoid long-term penile tissue damage, thus expediting the return of spontaneous erectile function.
We recommend that, within the first 2 weeks after catheter removal, all patients who have undergone an RRP should begin self stimulation to enhance eventual recovery of potency. Oral agents (Viagra®, Levitra® or Cialis®) are prescribed to enhance the flow of oxygen to penile tissue. The most common side effects are headache (20 percent), flushing (8 percent), visual disturbance (6 percent) and nasal congestion (6 percent). We ask patients to attempt to have at least 3 erections per week in the months after surgery in order to maximize post-operative recovery.
The successful recovery of erectile function is highly dependent on the patient and his partner's education about treatment-related sexual problems. Open sexual communication between partners is essential. Other issues, such as loss of sexual desire, difficulty reaching orgasm, ejaculatory problems or sexual pain also should be addressed. Finally, reproductive health, fertility issues and sperm banking counseling are an integral part of our program.