Recognized for Quality
Virginia Mason has received numerous awards and much recognition for our efforts to improve patient safety and quality of care. Below are recent highlights.
2018
2017
For the 12th consecutive year, The Leapfrog Group named Virginia Mason a Top Hospital based on its evaluation of quality and safety for about 1,900 medical centers across the nation.

Virginia Mason receives an A for the 12th consecutive time in The Leapfrog Group's Hospital Safety Grade program and is the only medical center in Washington state to achieve straight-A status.

2016
2015
2014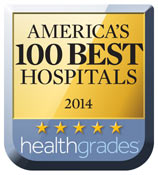 Virginia Mason receives an "A" for patient safety score by The Leapfrog Group. This is the fifth time Virginia Mason has earned this rating since the program, a gold standard measure of patient safety, was launched in 2012.

Virginia Mason earns America's 100 Best™ hospitals award for pulmonary, gastrointestinal, critical care and general surgery, as measured by Healthgrades.

Virginia Mason is ranked as one of the best hospitals in Washington state for the fifth consecutive year by U.S. News & World Report, which has also designated it as a national high performer for cancer care; gastroenterology and gastrointestinal surgery; nephrology; orthopedics; and urology.

Virginia Mason was today named a recipient of Healthgrades Outstanding Patient Experience Award for the second consecutive year. This distinction places it among the top 10 percent of hospitals in the nation for patient experience.

Virginia Mason is included on the Becker's Hospital Review list of the "100 Great Hospitals in America" for 2014. The industry publication today released its compilation of some of the most prominent, forward-thinking and focused health care facilities in the nation.

The United Kingdom's Secretary of State for Health Jeremy Hunt delivered a major public policy speech at Virginia Mason on March 26, announcing new patient-safety initiatives for the National Health Service (NHS) of England. His proposals build upon lessons learned at Virginia Mason and its emphasis on continuous improvement.

Virginia Mason named one of America's 100 Best™ hospitals, as measured by Healthgrades. With this designation, Virginia Mason ranks among the top 2 percent of U.S. hospitals in 2014.

Virginia Mason received the 2014 Women's Choice Award, designating it as one of the nation's best hospitals for heart care.

Virginia Mason received the Distinguished Hospital Award for Clinical Excellence™ for the fourth consecutive year from Healthgrades, an online resource for comprehensive information about U.S. physicians and hospitals.