Program Leadership
Virginia Mason attracts excellent clinicians and all-star teachers. Residents consistently cite the teaching faculty as a highlight of our program. We strive to provide relevant teaching and guidance with each patient interaction, teach and practice evidence-based medicine, and promote resident autonomy. It is our pleasure to be your teachers and colleagues.
Alvin S. Calderon, MD, PhD, FACP
Program Director
Graduate and Medical School: University of Illinois, College of Medicine, Urbana-Champaign
Residency: Virginia Mason Medical Center
Dr. Calderon is consistently ranked among the top teachers at Virginia Mason. He has received awards for teaching from both internal medicine and transitional residents. As a Kaizen Fellow, he focuses on graduate medical education, specifically working on operational and educational aspects of rounding to create a patient-centered rounding system that maximizes learning for each member of the care team. He is a member of the Section of Hospital Medicine. Outside of the hospital, Alvin enjoys golf and photography. He is currently exploring high performance sport psychology and what we can learn in health care by applying mindfulness in our everyday practices.
In January 2019 and after 10 fulfilling years of service as our Program Director, Dr. Calderon will transition to core faculty. He remains completely committed to the residency program.
"I have been honored to mentor and train residents since 2003, and I've had the privilege of being the program director since 2008. I stayed at Virginia Mason as teaching faculty because I believed there can be no better place to train than a place where patient care is exceptional and where residents are truly valued. As the program director, it is my personal mission to launch residents into sustainable and fulfilling careers by continuously refining and improving the internal medicine program to meet the changing needs of health care. I am thrilled to train the doctors of the future today."
---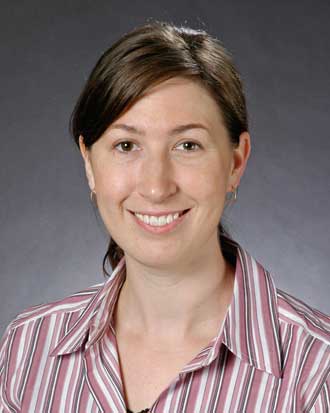 Brandee Grooms, MD, FACP
Clinical Assistant Professor, University of Washington
Medical School: Loma Linda University
Residency: St. Mary's Medical Center, Long Beach, Calif.
Chief Residency: St. Mary's Medical Center, Long Beach, Calif.
Dr. Grooms is proud to have taught residents and medical students for more than 10 years at Virginia Mason. During this time, she has led improvements in the clinical learning experience for medical students rotating on our inpatient ward teams. She supports residents in their development as leaders in medical education, and created a peer mentoring program to support the teaching skills of the inpatient faculty. Her experience training PAs and ARNPs as Program Director for the Advanced Practice Fellowship in Hospital Medicine has cultivated her interest in how clinical experiences and team structures can best meet our patients' needs, as well as the educational needs of each individual while supporting the highest level of satisfaction, connection, and purpose in everyday work. Brandee enjoys ballet, chocolate and looking forward to adding chickens to her family's garden.
In January 2019, Dr. Grooms will become the Program Director for the Internal Medicine Residency Program.
"I am elated to have joined this outstanding leadership team in service to our residents as the incoming Program Director. Each year, I am inspired by the depth of compassion and eagerness for personal and professional growth each resident brings to our program. Seeing residents attain the skill and confidence to graduate and become trusted colleagues is a joy for me. Providing support and guidance so they can thrive during this process is my mission. Success is when we empower residents to recognize that the changes and challenges we see in health care are their opportunity to lead and become the problem-solvers that ultimately improve our patients' lives. At Virginia Mason, we are fortunate to be able to work toward this goal in a setting that is consistently at the leading edge of transforming health care and where resident voice and engagement in these efforts is valued."
---
Paul A. Smith, MD, MACP
Associate Program Director
Primary Care Program Director
Clinical Associate Professor, University of Washington
Medical School: University of Washington
Residency: University of Rochester
Chief Residency: University of Rochester
A long-time champion of medical education for residents and life-long learning for faculty, Dr. Smith developed our residents' continuity clinic practice and our primary care program. He has a special interest in evidence-based clinical practice and teaching ambulatory procedures. His role is to provide residents with an experience that demonstrates ambulatory general internal medicine as an attractive and sustainable career. An avid runner, Paul has completed an impressive 35+ marathons and joins the residents on a run during our annual fall retreat.
After working full time for the duration of his career, Dr. Smith will achieve his much deserved dream of skiing on Wednesdays with a part-time schedule beginning in January 2019. He will continue to support the program as core faculty.
---
Joy Bucher, MD, FACP
Core Faculty
Site Director, Medical Student Rotation
Clinical Associate Professor, University of Washington
Medical School: University of California San Francisco
Residency: University of Washington
Chief Residency: University of Washington
Dr. Bucher came to Virginia Mason for the opportunity to teach residents and students in a highly functional primary care setting. In addition to precepting residents in primary care and working on teaching topics and CME events, she coordinates the third-year medicine clerkship for University of Washington medical students rotating at Virginia Mason. Dr. Bucher created the Primary Care Retreats for primary care residents and the Clinic Immersion experience for all three-year residents. Outside of medicine, she likes backpacking, boot camp, and enjoying time with husband Jeff and girls Ella and Keira.
In January 2019, Dr. Bucher will become Associate Program Director and the Director of the Primary Care Program.
"As a younger attending, I so enjoy working with students and residents and watching them "grow up" and join me as colleagues. Our residents are absolutely wonderful people — great with patients, always working to improve our program, and with lives outside of medicine."
---
Carrie A. Horwitch, MD, FACP, MPH
Core Faculty
Clinical Associate Professor, University of Washington
Medical School: University of Arizona College of Medicine, Tucson
Residency: Good Samaritan Medical Center, Phoenix
Dr. Horwitch has a diverse background in internal medicine, HIV care, public health practice and teaching. She has training in travel and tropical medicine and HIV care. She completed a term as the governor for the Washington Chapter of American College of Physicians. In addition to her work at Virginia Mason, she is a consultant to I-TECH and has led training workshops on HIV, training of trainers and mentoring in multiple African countries. She strongly believes in good doctor-patient communication and active participation by the patient in their overall health status and care. She also has a strong interest and expertise in physician wellness, and is a certified laughter leader. She is recognized as an excellent bedside teacher and a leader who takes the extra time and effort to ensure that residents and students have a good experience.
"I came to Virginia Mason specifically to work with residents and have been fortunate to be here for the past 16 years. I love teaching, and working with the residents makes me a better doctor. I have the pleasure of coordinating and working with each resident on his or her scholarly project, and then assisting as they present those projects at local or national meetings. I am always amazed at the fabulous work they do. My goal as a teacher is to give the residents the skills they need to be excellent internal medicine physicians and be able to enter any practice setting they choose."
---
Michael Soung, MD, FACP
Core Faculty
Clinical Assistant Professor, University of Washington
Medical School: Northwestern University
Residency: University of Washington
Chief Residency: University of Washington
Dr. Soung's interests include physician and patient education, evidence-based clinical practice and all areas of primary care medicine. He coordinates our residency's evidence-based medicine curriculum and is recognized as an expert in motivational interviewing, agenda setting and fostering resident autonomy. He is a consistent "Top Ten" teacher, as ranked by the residents. He is regularly invited to speak at American College of Physicians, University of Washington, and Virginia Mason CME events on a variety of core primary care topics. Dr. Soung enjoys long-distance running, dodging traffic on his short bike commute, and singing with the Seattle Jewish Chorale.
"I am constantly amazed by our residents. They balance the demands of life and work, and still manage to maintain a strong enthusiasm for learning and scholarship. It is such a pleasure to work with them. I try my best to pinpoint each resident's individual educational needs and target teaching towards filling in the gaps, while still helping to see the forest from the trees."
---
Susan E. McCormick, MD, FACP, FACG
Core Faculty
Clinical Assistant Professor, University of Washington
Medical School: George Washington University
Residency: Letterman Army Medical Center, San Francisco
Fellowship: Walter Reed Army Medical Center
A member of the Section of Gastroenterology, Dr. McCormick coordinates specialty electives, facilitates the mentorship program, leads Faculty Development efforts, and coordinates the feedback and evaluation system. She has been an active member of the Residency Advisory Committee since she arrived at Virginia Mason in 1998. She joined the internal medicine leadership team in 2015. She is known for her enthusiasm for teaching, organizational skills and mentorship.
As of 2018, she is a published author of "Granny Can't Remember Me," a lighthearted picture book about Alzheimer's disease and dementia told from the perspective of a six-year-old boy and inspired by her experiences with family members with Alzheimer's disease.
"I came to Virginia Mason because I love teaching. Working with residents, teaching and learning from them is a high point of my job. I am gratified to know that these fine young doctors will someday take care of me."
---
Joey Parker, DO
Core Faculty
Medical School: Arizona College of Osteopathic Medicine
Residency: Virginia Mason
Chief Residency: Virginia Mason
Dr. Parker joined the section of hospital medicine and internal medicine core faculty after completing his internship, residency, and chief residency at Virginia Mason. He has a special interest in infectious diseases and has presented on topics such as Mycobacterium tuberculosis and Clostridium botulinum, in addition to working in a specialty HIV clinic during residency. He serves as associate program director for the Transitional Year Residency and is a member of the American College of Physicians Executive Council. He is also a two-time recipient of the Virginia Mason Internal Medicine Teacher of the Year award, and is responsible for developing and maintaining the inpatient curriculum utilized during inpatient wards months.
"It is my complete joy to be surrounded by house staff. As a former resident and chief resident at Virginia Mason, I have a unique view of the residency program and am amazed by both their dedication to service and love for life. They challenge and inspire me on a daily basis. I strive to show residents how to find the teaching point and learning pearl in all they do, to be relentless in the pursuit of their dreams, and to perform better than they have ever performed before."