Federal Way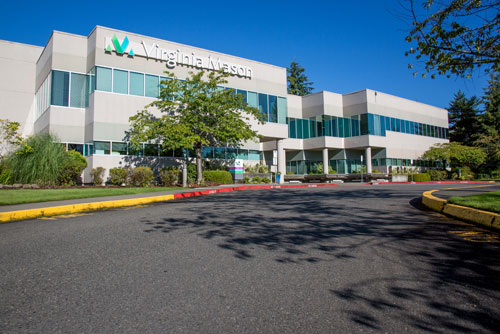 Hours
Medical Center:
Monday - Friday: 8 a.m. - 5 p.m.
Saturday: 9 a.m. - 4 p.m.

Walk-In Care:
Monday - Friday: 8 a.m. to 8 p.m.
Federal Way Walk-in Care will close at 3 p.m. on Tuesday, Aug. 11
Saturday and Sunday: 9 a.m. to 4 p.m.
We are currently offering video visits and in-person visits. To schedule an appointment, please call (206) 223-6881 or schedule online at MyVirginiaMason.
---
For people who live south of Seattle, Virginia Mason Federal Way Medical Center is an ideal option for primary care and walk-in care, outpatient surgery and many other medical specialties.
Inside and out, the Federal Way location is inviting. Surrounded by evergreens, the medical center offers plenty of convenient free parking. Inside, skylights provide natural lighting, and green spaces viewable from many parts of the medical center which promote a sense of calm. The pediatric area is clearly designed with little ones in mind, from the reception area to the exam rooms.
When you arrive for your appointment, the friendly and efficient reception team will greet you inside the main entrance. They'll help you get checked in quickly, and make sure you know where to go next. The entrance to urgent care is clearly marked and located at the west end of the building.