Find a Doctor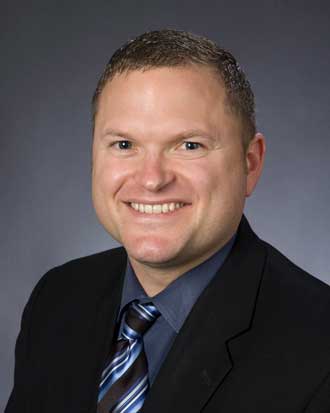 Parking
Key

Hospital
Clinic

Urgent Care

Emergency Department
Special Interests
Sports medicine, foot and ankle surgery
Departments
Specialties
Podiatry, Foot and Ankle Surgery, Podiatric Surgery, Sports Medicine
Board Certifications
American Board of Podiatric Surgery, 2007
Education and Professional Achievements
Education
California College of Podiatric Medicine, San Francisco, 2000
Internship
Podiatric Medicine and Surgery, Veteran's Hospital - American Lake Division, Lakewood, Wash., 2001
Residency
Podiatric Surgery, Madigan Army Medical Center, Ft. Lewis, WA, 2002
Fellowships
Podiatric Surgery, Virginia Mason Sports Medicine, Seattle, 2003
Professional Activities and Awards
Director, "Fit Feet," Special Olympics of Washington Diplomat, American Board of Podiatric Surgery Fellow, American College of Foot and Ankle Surgeons Associate Professor, California School of Podiatric Medicine, Sports Medicine Curriculum
Patient Ratings and Comments
Patient Ratings
All ratings are submitted by Virginia Mason patients and are verified by an independent, national patient survey company. Ratings are measured on a scale of 1 to 5 with 5 being the best score.
Learn about the ratings
.
All comments are submitted by Virginia Mason patients and are verified by an independent, national patient survey company. Patient comments are displayed in their entirety and patients are de-identified to protect confidentiality and privacy.
Learn about the comments
.
April 2018
Dr Heit is great! Always very understanding, listens to all symptoms and addresses all concerns and questions.
April 2018
I drive 4 hours to see Dr. Heit, that says a lot about my trust in and interactions with him.
March 2018
Dr. Heit continues to provide excellent care consistently.
February 2018
Dr. Heit and Dr. Randall were fantastic. they answered any and all questions I had and listened to all my concerns with great care.
February 2018
Dr. Heit is proving to be an exemplary physician. He explained everything to my satisfaction, and I have the utmost faith in his ability to perform my upcoming surgery to the highest standards.
February 2018
Couldn´t be better. I have been treated by many doctors at Virginia Mason and everyone has been outstanding. I am glad to travel from Ellensburg for treatment.
January 2018
Love Dr. Heit. he thoroughly explains things, gathers your input, & answers questions. Great, great dr.
January 2018
Dr. Heit is very caring physician he took time to talk to me and gave me all the options I have and also the papers I need to follow up.
December 2017
He is just excellent. Best podiatrist I know!
December 2017
Dr. Helt is amazingly patient, listens well, takes the time, is up front honest about what he can and can´t do, offers solutions, suggestions - AMAZING!
November 2017
I can not explain how blessed I am to have the opportunity to have Dr. Heit as my foot Dr. I have recommended multiple people to him and they also drive the 3 hours to Seattle to see him.
November 2017
I love Dr. Heit and recommend him to anyone looking for a foot doctor.
November 2017
My experience throughout the years has consistently been with caring, concern, willing to listen to me and to think outside the box. I feel blessed to have had the best of the best to give me a better quality of life. #2-3. Really listens. #7. You know he is focused on you. #10. Already have.
November 2017
Dr. Heit is perhaps the nicest, most approachable medical provider I have ever worked with
November 2017
He was throughout and friendly. He gave me a few options about care and what he would do if he had a similar issue. He felt honest and genuine. I was not rushed. We made a plan will continue after my next round of x-rays.
September 2017
Dr. Heit was very well-prepared and well-versed on my condition on my initial and each subsequent visit. He was able to supply me with written, accurate and objective information he had selected, which made my decisions about treatment easier.
September 2017
....of course, let´s see how the surgery actually goes. Dr. Heit has made me think it will go well.
August 2017
Dr. Heit is an excellent provider, he is professional and caring.
August 2017
so far Dr Heit has been amazing. if my outcome ends up being as predicted, my feelings on VM sports medicine clinic and Dr H will be through the moon. truly professional and welll run clinic.
June 2017
Awesome doc - he is so good & patient will all he comes into contact with.
May 2017
Dr. Heit is great. He really goes out of his way to explain the situation to me. I never feel rushed and he takes great care in dealing with my problem. If it was not for his suggestions and help, I would not be able to continue my walks. He knows how important walking and working out is to me. I can´t thank him enough for his expert advice and care.
May 2017
Dr. Heit is very engaging and knowledgeable. He explains thoroughly and seeks patient interaction.
April 2017
Dr. Hiet was extremely attentive. Listen to what my concerns were and addressed them in a clear direct way. Was reassuring and helpful.
March 2017
Dr. Heit is wonderful. I had a couple of questions and he didn´t rush me through the appointment. he answered my questions very thoroughly.
March 2017
Dr. Heit is an extremely efficient and empathetic person.
January 2017
I have seen several podiatrists for my foot problem, and Dr. Heit has far surpassed each of them in diagnosing and treating the pain. He is an expert in podiatry and I would recommend him highly.
January 2017
Dr. Heit is great. He examined my foot and X-rays and quickly diagnosed the problem
December 2016
Friendly Doctor. Thank you!
November 2016
Superior care
November 2016
Not a lot of time taken to explain injury and healing process. Felt rushed.
November 2016
I´ve recommended Dr Heit to my son & my son was able to run a marathon because of his care.
October 2016
dr. Heit is is a model that Virginia mason should strive for for their physicians
October 2016
Dr. Heit was outstanding.
September 2016
I looked up Dr. Heit´s bio and was impressed with his background as well as his publication on the part of my foot that was injured. His explanations were complete and his advice was founded on solid reasoning coupled with his own experience.
September 2016
As with most providers, both physicians and ARNPs, at VM, Dr Heit was very thorough in his medical evaluation, complete in his explanations of my condition, and provided a prognosis and an inexpensive specialized medical device that I had not heard of or conceived. I came away with a plan which was my goal in this appointment.
August 2016
Really liked him.
August 2016
Dr Heit was very encouraging. He made me feel understood and very well cared for. He is personable and took the time to recommend and encourage use of an app for running. I have already recommended him to family members.
August 2016
He´s simply the best.
August 2016
My provider spent 25 minutes with me with more than 50% of that in face to face contact time and counseling of my problem.
July 2016
Dr Heit makes a very bad situation tolerable by explaning what´s wrong and letting me know all available options to help ease the pain
July 2016
#6. - The follow up care instructions were verbal and it would have been nice to have them also written down on the info sheet that was sent home with me.
June 2016
Dr. Helt is outstanding - he listens, is compassionate, explains things well and clearly and with no condescension. Top notch!
June 2016
Very good experience.
June 2016
Dr Heit has an exceptionally consistent, respectful, pleasant and attentive communication/education style. It is a pleasure to encounter a doctor so skilled.
June 2016
#1 attribute is that I have confidence in Eric Heit´s technical skill. #2. He is very approachable so it´s easy to ask questions. #3. As is the case here, he brings up my x-rays, a visual which helps him explain what is going on. That VM has the systems which facilitate pt. care AND teaching is super.
May 2016
I appreciated that he took the time to address all of the issues I am having with my foot and also has new ideas of possibilities of treatment
May 2016
Excellent listener. Felt confident in his physical exam skills and ability to arrive at diagnosis. Excellent technical skills.
May 2016
Dr Heigt did a great job on my other ankle a couple years ago so it was great to see him again for my new problem. He´s very good at getting to the root of my problem and making recommendations
March 2016
Love Dr Heit. He always explains things so I understand and is very gentle.
February 2016
I have recommended this doctor many times...
February 2016
Dr. Heit is one of the best doctors I´ve dealt with. Very well-rounded & sharp.