COVID-19 Updates for Team Members
We are committed to keeping our team members informed and in the loop throughout our COVID-19 response. Check here regularly for the latest news and updates from Virginia Mason.
Team Medicine Employee Updates Newsletter — You can also subscribe to Team Medicine Updates to get this news emailed directly to your non-Virginia Mason email. Subscribe today!
---
May 28, 2020 Update
Dear team member,
We are proud and inspired by the way our team members have risen to this challenge – with flexibility, patience, resilience and love for our community. Thank you for what you're doing to help Virginia Mason weather this crisis. Your commitment makes all the difference.
Please look after yourself and your family. We look forward to welcoming you back as soon as possible.
Musician Gives Heartfelt Performance for Virginia Mason
Musician and vocalist Allen Stone took time out to compose a mini concert in tribute to the patients and care teams at Virginia Mason. Allen performs four songs with messages of hope and the healing power of our connections with others. "I hope you're feeling grateful for the connection of human beings and the power of relationships," Allen says. "I hope these songs can bring you some comfort."
For Our Team Members
Simple Steps to Help Prevent Unemployment Fraud
As you've read in earlier Team Medicine Updates, criminals are using stolen data to file fraudulent claims for unemployment. Want to prevent being targeted, or find out if you have been? Washington's unemployment agency, the Employment Security Department (ESD), recommends you take these simple steps:
Set up a Secure Access Washington account.
Sign into your account and begin the process to file for unemployment. Don't worry, you won't actually be filing for unemployment.
At the "verify my identity" step, you will be able to see if anyone has accessed your account, or filed a claim on your behalf.
Enter your email to verify your account.
If you've already been a victim of this fraud, ESD recommends the following:
Final Extension to CPR Certification and Myles Training Deadlines
In April, we extended the deadlines for CPR certification and completing competency modules in Myles to May 31. After evaluating the feasibility and safety of completing these assignments, we are updating the deadlines:
Myles: We are implementing a final extension for completing competency modules to June 30, to align with the due date for annual performance evaluations. This applies only if you are renewing competencies, not adding new skills (or if you're a new hire).

CPR certification: We are following guidance from the American Heart Association to allow a 120-day extension for CPR renewals due in March, April, May or June only. March renewals are due by the end of July; April renewals by the end of August; May renewals by the end of September; and June renewals by the end of October. We have scheduled multiple CPR classes for June and are now scheduling for July and beyond. An important note: If your renewal date is July or later, there is no extension. Your renewal date remains at the end of the month noted on your certification card.
Myth Busting: N95 Mask Reprocessing
You may have been hearing news about N95 mask sterilization by Battelle, which was granted an emergency use authorization by the FDA in March and quickly became available in Washington as a method to ensure mask supplies during the COVID-19 pandemic. This sterilization process uses hydrogen peroxide gas to decontaminate used masks, returning them to hospitals in individual sealed packages, such as those seen with many other disposable health care supplies. There are rumors that this process is carcinogenic and may be harmful to health care workers; however, the risk is related to ethylene oxide, which is not part of the Battelle process, but was part of a process being considered by other regional health care systems.
Five Lessons to Remember When Lockdown Ends
"A lot of people I know have been starting to wonder about life after the shelter-in-place orders have been lifted. What will it be like? What will the new normal be? I'm connected with friends online, but I miss their physical presence. Plus, my sleep and mood have suffered as anxiety looms over the future of our society. I don't want to negate these feelings or ignore our losses. But I can't help but see some positives coming from this crisis, too."
From Greater Good, let's not forget what we learned from going through a pandemic.
How to Sleep Better
Good sleep is a foundation for good health and a happier frame of mind. Set the stage for a restful night, starting in the morning and continuing into the early evening. According to research, almost a third of us drag ourselves out of bed in the morning because we haven't gotten enough good-quality sleep at night, which means we're not feeling as great as we could be during the day.
Get 15 science-backed tips for your best rest. Note: you don't need to sign up for Headspace to see the tips.
Virginia Mason Updates
Campaign Encourages Patients to Seek Needed Health Care
As Virginia Mason resumes clinic and hospital operations, our "Get Care" campaign, in partnership with the Washington State Hospital Association (WHSA) and other Washington hospitals, has launched to boost patient confidence in seeking the care they need. Concern and anxiety related to COVID-19 has caused some patients to postpone or not seek needed care. This increases their risk of worsening symptoms and/or outcomes.
Key campaign messaging, delivered via social media, the Virginia Mason website, portal and billing statements, encourages our patients not to delay getting care, whether for managing chronic conditions or addressing concerning symptoms. Our patients will be assured that:
Virginia Mason is committed to providing an environment of safe care.
Our teams are ready to meet patients' individual needs, including offering video visits.
Their health is essential. Delaying care could lead to a more urgent or emergent health problem.
WSHA's Get Care public service campaign, expands the message through TV, radio, outdoor and digital advertising. The public will hear that Washington's hospitals and clinics are available, safe and ready to take care of patients' health concerns. Ads will direct patients to this website for more information: www.wsha.org/getcare.
Virginia Mason Ranked No. 1 in New Community Checkup Report
Virginia Mason is No. 1 in the Washington Health Alliance's new Community Checkup ranking of commercially insured medical groups, with four or more providers, for overall performance across a range of quality measures.
"Virginia Mason's ranking in the Community Checkup is a testament to the focus on quality and safety across our organization," said Gary S. Kaplan, MD, chairman and CEO. "Our team's steadfast commitment to excellence distinguishes Virginia Mason and makes a difference in the lives of the patients we serve."
The 2019 report, released in April, states "consistency in performance deserves special note" in recognizing that Virginia Mason has been in the top five every year since 2015.
Also, Memorial Physicians LLC at Virginia Mason Memorial in Yakima is No. 6 among the approximately 100 commercially insured medical groups included in the Community Checkup ranking.
MediSpa Closes, Skincare Products Still Offered
Earlier this year, we announced plans to close the MediSpa permanently on May 9. Shortly after that announcement, in compliance with Gov. Jay Inslee's guidelines concerning COVID-19, we temporarily closed the MediSpa. Due to additional precautions mandated by the state and the Centers for Disease Control and Prevention, we have made the decision to close the MediSpa aesthetic services effective May 18.
We will continue to offer our retail skincare products. They are available for delivery until further notice. You may order through the online order form. Our team will contact you to process your order and to confirm shipment.
If you have remaining value in unused service packages, you may use the full remaining value toward skincare products or toward cosmetic outpatient services, such as laser treatments or Botox. If you have an unused gift card, you may use the full remaining value toward skincare products. The unused service package or gift card balances will be available until used but may not be refunded or redeemed for cash.
Although this was a difficult decision, our top priority continues to be the health and wellbeing of our clients, team members and community. If you need to reach us while we are closed, please call (206) 223-8889 and leave a message.

---
Holiday Pay for Memorial Day, May 25
Memorial Day is Monday, May 25, and we wanted to let you know the HR protocol for holidays still applies. If you would be eligible for holiday pay in a non-COVID-19 world, you'll be paid for Memorial Day. Here are the details:
Holiday hours will be automatically loaded into Kronos as usual.
Whether you're currently working or on furlough, you'll be paid according to your pre-COVID employee status. You'll see 8, 7 or 5 hours in Kronos depending on your FTE.
New CARES Act Options for Accessing Your Retirement Funds
If you've been struggling financially because of the COVID-19 crisis, you may be thinking about tapping into your retirement savings. You probably heard the new CARES Act lets you draw down money from your retirement account without penalties. It also relaxes rules on taking out a loan from the account and lets you defer existing loan payments.
But is it the right move? Contact the Fidelity Retirement Benefits Line at (800) 343-0860 to discuss your options and factors you should consider, including your short-term financial needs, potential tax implications and long-term retirement goals.
Notify Employee Health When Household Members Have COVID-19
Employee Health requests team members notify them when any household members test positive for COVID-19. Employees should remain home, follow their call-in process, and use the Employee Health Symptom Line, (206) 341-0200. This type of exposure is considered high risk, and we want to continue to do all we can to safeguard our team members and patients, and provide resources to team members managing COVID-19 at home, if needed.
After-Hours Nurse Line for Team Members Ending May 24
For several years, a 24-hour nurse line has been available to help team members determine the medical care needed for specific non-emergency symptoms (this is not the same nurse line available to patients). Very few people used it, though, and now that we offer several virtual care options, we decided it's the right time to close the nurse line. The service ends Sunday, May 24.
Don't worry, though! You can still get care from the comfort of home around the clock:
"Virtual Mason" telehealth with Virginia Mason providers
Virtual Care Clinic through Amwell
Call your primary care provider after-hours to be directed to a different 24-hour nurse line available to all Virginia Mason patients
Reminder: Get the Legal Documents You Need at No Cost
Through June 30, our benefits partner MetLife is sharing free health care planning tools for Virginia Mason team members as their way of saying thank you – and to help make sure you and your family are protected.
To get started, go to MetlLife.com/Heroes and answer a few questions. In as little as 15 minutes, you can create three legal documents, including health care proxy.
Team Members Help Conserve Disposable Isolation Gowns
With the help of our teammates, Virginia Mason has been able to successfully implement multiple PPE conservation strategies quickly when faced with supply shortages. This past week, we implemented conservation measures to help our supply of disposable gowns. We successfully dropped usage from 2,800 disposable gowns a day to 1,000 a day. The small changes from individual team members make a huge difference across the organization. Keep up the great work!
Clarification of Tests Used at Virginia Mason
You may have seen the news about an unacceptably high false negative rate of 15% for the Abbott ID Now COVID-19 viral test. This is not a test used at Virginia Mason. The three tests run at Virginia Mason are the Abbott m2000, the Genmark ePlex and the Cepheid Xpert Xpress.
How Virginia Mason is Treating COVID-19 Patients
With so much in the news about therapies for treating patients with COVID-19, you may be wondering what therapies Virginia Mason is using. The therapies include convalescent plasma, Tocilizumab and participation in a clinical trial for Remdesivir.

Scammers Filing False Unemployment Claims during COVID Crisis
Americans are filing for unemployment benefits in record numbers – and scammers are trying to cash in.
In the latest scheme, criminals are filing fraudulent claims for unemployment benefits. This is a widespread problem, happening all across the country – including in Washington. And unfortunately, phony claims have been filed for several Virginia Mason team members.
This scam is identity theft. It's not clear how these criminals are accessing the personal information needed to file a claim, but according to the Seattle Times, it may be connected to data breaches at websites and retailers. For example, one person who contacted the Times said a family member named in a fraudulent unemployment claim had also been a victim of the 2017 Equifax data breach.
How to know if you've been targeted by this scam
You may be contacted by Virginia Mason's Human Resources team because they've been asked to verify your eligibility for unemployment by Washington's unemployment insurance agency, the Employment Security Department (ESD). Virginia Mason will NEVER initiate an unemployment claim on your behalf.
But it's far more likely you'll get a notice from ESD about an unemployment claim you did NOT file. These notices are sent by ESD because someone started a claim in your name.
What to do if you've been targeted
Contact ESD at esdfraud@esd.wa.gov. Include the following in your email:


Your full name
Last 4 numbers of your Social Security number (never put your full SSN in an email)
Your address
A copy of your driver's license (so ESD can verify your identity)
Brief description of how you found out an impostor-fraud claim was filed using your information
If a fraudulent claim was filed using your information, do you give ESD permission to deny and cancel it?


If you received a notice from ESD, report the incident to Human Resources at (206) 223-6757. Let HR know a fraudulent claim was filed in your name and that you have already contacted ESD. This ensures HR is aware of the fraud and can appropriately coordinate with ESD.

File a non-emergency report with the appropriate law enforcement agency, typically the city police or sheriff's office in the jurisdiction you live.

Report the fraudulent claims to the three credit bureaus. Consider adding a fraud alert to your account or freezing your credit – both will make it harder for someone to open new accounts in your name. Check your credit activity at least once a year (victims of identity theft have the right to check it monthly for free).

Report the identity theft to the Federal Trade Commission at IdentityTheft.gov or (877) 438-4338.


Keep all your notes from the incident, including case numbers and dates you contacted the agencies above. You may need this information for years to access services and accommodations available to victims of identity theft, such as correcting your credit report and sealing some public records.
Committed to Safe Care
Virginia Mason launched a marketing campaign to encourage patients not to wait to schedule appointments for primary and specialty care, and not to wait on urgent/emergent care, either. We're reaching out through social media, our website, portal and bill stuffers, Facebook and Instagram.
A key message: Virginia Mason is committed to providing an environment of safe care. With new evidence for pre-symptomatic and asymptomatic spread of COVID-19, we are screening patients and visitors for symptoms, and require everyone – including team members – to wear masks or face coverings.
Get the Legal Documents You Need at No Cost
Through June 30, our benefits partner MetLife is sharing free health care planning tools for Virginia Mason team members as their way of saying thank you – and to help make sure you and your family are protected.
To get started, go to MetlLife.com/Heroes and answer a few questions. In as little as 15 minutes, you can create three legal documents, including health care proxy.
Virginia Mason First to Order Special Respirators from Ford, 3M
Virginia Mason is the first medical center in the nation to order and take delivery of the Ford-built, 3M-designed powered air-purifying respirators (PAPR), which are specifically engineered to protect health care workers taking care of COVID-19 patients.
Since late March, Ford has been working with 3M to create urgently needed PAPRs, using design guidance from 3M and off-the-shelf parts, like vehicle ventilator fans and power tool batteries. The PAPR includes a hood and face shield to cover health care professionals' heads and shoulders, while a high-efficiency (HEPA) filter system provides a supply of filtered air for up to eight hours. Ford and 3M plan to donate any profits they earn from the sale of the PAPR to COVID-19 related nonprofit organizations.
Seahawks Surprise Community Heroes, Including Two of Our Team Members
Two Virginia Mason team members were among 12 community heroes honored by the Seattle Seahawks this week. Dary Collado, MA-C, General Internal Medicine, and Melanie Anderson, senior application engineer, Laboratory Services, were surprised with video calls from Seahawks Coach Pete Carroll and second-year star DK Metcalf, who thanked them for their efforts and gave each a pair of season tickets. Both were nominated by their peers:
"Dary volunteered to work outside when temperatures were in the 20s - AND shave his beloved beard - all so Virginia Mason could provide more extraordinary care to our community. Dary! When the call went out, Dary stepped up to be part of the first group staffing Virginia Mason's drive-through COVID-19 testing facility for patients and team members. The only thing standing in his way was his beard. For the safety of all concerned, our team needed to wear masks that were "fit tested" (a test that ensures the mask properly fits the face of the person wearing it). Unfortunately, we had to turn Dary away because of the beard and started looking for a replacement. Within 10 minutes, though, Dary returned with a clean-shaven face, determined to serve our patients and team members. Truly an inspiration!"

"Quick testing of COVID-19 is critical to identifying, isolating, treating and limiting the spread of the disease. Melanie is the essential but unseen hero in our midst who helped Virginia Mason build incredibly fast and effective internal testing capabilities. Thanks to Melanie's phenomenal "can do" attitude and endless focus on building, rebuilding and testing our computer interfaces, Virginia Mason cycled insanely fast from having to send all COVID-19 tests to an outside facility to moving that work internally and testing within days to now testing within only 90 minutes. Incredible! Melanie has repeatedly gone above and beyond since the pandemic began so Virginia Mason can provide extraordinary care to our community."
Congratulations, Dary and Melanie! A big thank you to you and all team members who are continuing to excel during the COVID-19 crisis.
National Nurses Week: Two Nurses Share Their Stories
During National Nurses Week, May 6-12, we honored the more than 1,200 members of the nursing team at Virginia Mason who have answered the special calling to be a nurse, dedicating their lives to selflessly care for patients, their families and caregivers.
We asked two of our nurses to share what path led them to nursing and what continues to inspire them:
Chelsea Reimer, RN – Critical Care. In normal times, Chelsea Reimer, RN, BSN, CCRN, relaxes by exploring the Pacific Northwest. Amid COVID-19, she assists fellow nurses so they can unwind. A Critical Care Unit (CCU) resource nurse, Chelsea steps in to care for patients so other CCU nurses can take much-needed breaks while also addressing vital hospital needs. "Facilitating Facetime calls so families can see their loved ones, even just through a screen, has been such a joy. I'm so thankful Virginia Mason has provided this option for families."

Deborah Coatsworth, RN – Bainbridge Island Medical Center. Deborah Coatsworth, RN, takes the idea of wearing many hats to heart, providing cardiac care to patients on the island. She tells us, "I work as a specialty nurse for part of my hours at VM Bainbridge and in that role, I do cardiac testing along with a sonographer and a cardiovascular lab tech. Patients on an island are always very grateful that they can have a cardiac test locally rather than having to travel into Seattle."
To each of our nurses — thank you for answering the call to nursing, for choosing to work at Virginia Mason and for the exceptional work you do each day!

National Nurses Week: Honoring Our Nursing Team Members
As we celebrate National Nurses Week, we honor the more than 1,000 members of the nursing team at Virginia Mason who have answered the special calling to be a nurse, dedicating their lives to selflessly care for patients, their families and caregivers.
Virginia Mason nurses serve in numerous positions beyond bedside care, including leadership, quality, professional development, research, employee health, infection prevention, emergency care and process improvement.
At Bailey-Boushay House, nurses deliver compassionate and complex care to patients with HIV/AIDS and those who need end-of-life care for cancer, Huntington's disease and amyotrophic lateral sclerosis (ALS).
Nurses care for research participants enrolled in clinical studies at Virginia Mason, overseen by Benaroya Research Institute whose mission is to predict, prevent, reverse and cure diseases of the immune system.
We asked for two of our nurses to share what path led them to nursing and what continues to inspire them:
Sharon Watts, RN-BC – General Internal Medicine and Concierge Medicine: I remember being admitted to the hospital when I was a child and I was in an isolation room. There was a little boy who was younger than me, in the room next to me. I could see him through a partition window. I felt very sorry for him and wanted to comfort him but I couldn't. I don't know if that is what inspired me to choose nursing as a career, but I know the experience stayed with me, and that nursing is something I always wanted to do.

Sarah E. Partain, RN – Infection Prevention and Control: I wanted to be a nurse after I read my first Cherry Ames book (a mystery book with a student nurse as the central character) in fourth grade, and I just marked my 38th year as an RN. I confirmed my desire when, in high school, a family friend was in a very bad car accident. She needed lots of rehabilitation even after she was discharged from the hospital. She and her mom would come over to our house on Sunday afternoons for a swim and dinner. I would help her in and out of the pool, help her with toileting, dressing and eating. I got frontline training even before I started nursing school.
To each of our nurses — thank you for answering the call to nursing, for choosing to work at Virginia Mason and for the exceptional work you do each day!
Reopening of Services Starts May 4
Throughout April, many of our teams and locations consolidated in an effort to conserve personal protective equipment (PPE) and reduce expenses. Also, demand for our services was level as the community responded to the governor's "Stay Home, Stay Healthy" order.
As we anticipate an increase in demand, we are moving teams back to their home locations to support patient volume and physical distancing needs.
While we've seen an increase in patient volumes in some areas, we still need to continue staffing to volume in each department. Leaders will communicate with their teams on work schedules and, for those on furlough, their return-to-work-dates. If you have any questions, please reach out to your leader.
We appreciate everyone's flexibility and support in making these short-term changes. It was a system-wide effort. During this necessary transition, it was impressive to see all teams pull together to make the most of this challenging situation.
Everyone Needs to Wear Masks in Our Facilities
All team members should now be masking at all times when in Virginia Mason facilities. This includes nonclinical team members in administrative areas (when physical distancing cannot be maintained), in addition to team members in patient care areas. Of course, masks may be removed when eating or drinking. We need to ensure we are keeping our patients – and each other – safe and healthy.
Save Money on Household Essentials and More with PerkSpot
"Yes, I'd like to pay full price," said no one, ever – especially during times like these, when saving money may be near the top of your list.
Virginia Mason partners with PerkSpot to offer discounts on everyday expenses, household essentials, home entertainment, electronics and more at thousands of your favorite local and national businesses. And if your family is hunkering down because of the governor's "Stay Home, Stay Healthy" order, you can even save on unanticipated expenses such as computers, technology, online tutoring and meal delivery.
PerkSpot is free to you and your family. Log in or create your account at virginiamason.perkspot.com and start saving today!
Wellbeing — Taking Care of You
Stress, anxiety and doubt can be just as contagious as COVID-19 – which is why it's more important than ever for you to prioritize your wellbeing. Here are tips for taking care of your emotional wellbeing.
Accept that you're on an emotional roller coaster
Emotions like anger, fear and stress may appear, disappear and reappear – and there's nothing wrong with that. We're human! The important thing is how you cope with the emotions and respond to an ever-changing environment. The Employee Assistance Program can help you be aware of and manage your emotions, be at peace with who you are and have the tools to weather life's ups and downs.

Professional care is available
The Employee Assistance Program is a free and confidential service that provides objective, personalized counseling and advice. BetterHelp can connect you with a counselor at your convenience, in a way that works for you – messaging, chat, phone or video. And the First Choice Health Behavioral Health Program provides voluntary and confidential assistance to create an emotional wellbeing plan for care tailored to you.

Realize that emotional wellbeing is important – and different – for everyone
We all deal with stress differently. There's no wrong way to feel. Embracing and learning from each other's feelings will make everyone stronger.

Build daily routines
Feeling as though your life has been thrown into chaos is normal. In addition to endless changes at work, you may suddenly be the "at-home teacher" for your kids or caring for your parents. Blocking out time for everyday tasks like eating and exercising can go a long way in getting life back to normal.

Don't neglect other aspects of health
Don't underestimate the importance of a healthy diet, regular exercise, meditation and sleep to your emotional wellbeing.

Do a good deed for others
Call someone who you know might be struggling and offer to listen. Give a Shout Out to a colleague who is not only going above and beyond, but showing strength, resilience and care for others.
Updated Kronos Attestation on Being Symptom Free
A heads up for the next time you log into Kronos: we've updated the attestation that asks you to verify you have been free of COVID-19 symptoms to align with the most recent CDC symptom list. The new attestation is "I confirm in the past 72 hours I had no fever, cough, shortness of breath, sore throat, chills, muscle pain, loss of taste/smell or other COVID-19 symptoms."
The full list of COVID-19 symptoms includes fever, cough, shortness of breath or difficulty breathing, chills, repeated shaking with chills, muscle pain, headache (unusual or unexplained by other causes), sore throat and new loss of taste or smell.
Note: If you're using a Kronos 4500 clock, you may need to use the scroll button to line up the responses.
Virginia Mason Maintains Straight-A Status in Leapfrog Safety Program
Virginia Mason has earned its 17th straight 'A' in the Leapfrog Hospital Safety Grade program for success in preventing medical mistakes and other potential harms.
Virginia Mason is one of only 32 hospitals in the nation – and the only one in Washington state – to have consistently earned the highest grade possible since The Leapfrog Group launched this safety program in 2012. The safety grades are issued in the spring and fall.
"This continuing recognition by Leapfrog affirms that our steadfast focus on quality and safety is the right work and that, together, we are making a difference in the lives of patients we serve," said Chairman and CEO Gary S. Kaplan, MD. "To be counted again among the safest hospitals in the United States is especially good news for our team during this unprecedented time of responding to the COVID-19 pandemic."
Virtual Care Serving Thousands of Patients
Recently, a Virginia Mason patient had her first-ever video visit with her primary care physician. She got a little help with set up, and was thrilled to see her doctor smiling back at her. The patient, who is 104, couldn't stop waving at the screen.
With the sudden suspension of in-person visits due to the COVID-19 crisis, patients faced uncertainty as they dealt with ongoing health care needs. While telemedicine has long been a part of the Virginia Mason culture – providing specialty care to support our partners and distant communities – the service wasn't set up for patients in our own backyard. Then a pandemic changed everything, and our teams rose to the challenge.
Since the virtual care kickoff a little over five weeks ago, more than 19,000 video visits have been completed. "In a matter of days, we shifted to provide a modern day house call that made it possible to deliver care to patients," says Katerie Chapman, senior vice president, Patient Care Services.
And yes, patients really like it. Convenience is a factor, as is the time and money saved on travel and parking. Even as in-person care is phased back in, virtual care will continue to be expanded and enhanced, to better serve the unique needs and preferences of our patients.
Message from Chairman and CEO Gary S. Kaplan, MD
The following message to all team members is from the April 22 COVID-19 update to the organization:
I want to express my gratitude and thanks to all team members. We are committed to maintaining the highest standards as we go through this pandemic and as we focus on reopening our services in many areas. In many ways, it seems the tide is beginning to turn, there are glimmers of hope and objective data that tell us we're making progress. Make no mistake, we have a long way to go, but there are some good things on the horizon.
Many patients have deferred care for a variety of reasons, most significantly the "stay home, stay safe" proclamation and the reduction or elimination of non-essential health care services. We know there are a lot of surgeries waiting to happen, there are a lot of patients with chronic diseases who need their regular check-ins and many patients who need more than televideo can provide. So we're getting ready. We now know we can begin providing more in-person care. And in doing so, it's incumbent upon us that we ensure we have an environment that is safe, comfortable and reassuring. This is a critical component as we begin to expand our services.
With televideo, we are learning how to connect with our patients in new and different ways. We should be proud of how quickly we have adapted care and embraced technology to stay connected with our patients. I want to thank all of our team members for being nimble, for being open to change, for understanding the uncertainty of the environment we're in. Thank you for the flexibility and willingness to work together as we establish and ensure the best pathways to keep our patients and our team members safe.
Change is going to be with us and we have to lean in and embrace it. If we stay focused on doing the right thing, we'll make the right decisions for our patients and our team members. Every day, I see Team Medicine in action, and that's what makes us special, makes us unique. It's part of who we will always be. I'm thankful to everyone doing their part to ensure we are here to care for our team members and our patients and their families. I'm proud to have all of you as colleagues.
Ensuring a Safe, Welcoming Environment
Virginia Mason's primary focus is – and always will be – on the health, safety and welfare of our team members, patients, visitors and the communities we serve. We wanted to highlight a few of the steps we're taking to ensure a safe and welcoming environment.
We are closely monitoring all COVID-19 developments. We are in constant contact with local, state and federal health officials and the Centers for Disease Control and Prevention (CDC) and we're following the latest guidance from these agencies.

Universal masking is now in effect. This means …



We are now mandating masks be worn correctly at all times while in the direct care of patients in all settings at Virginia Mason. Patients should also be masked in all ambulatory settings and in transport within the hospital, if tolerated.
In patient-facing areas (including entrances, hallways and the cafeteria), all team members should wear a mask regardless of role.
Team members not interfacing with patients in administrative spaces or private offices may wear one of our provided cloth masks. These may be removed as long as physical distancing can be maintained.


We published new safety guidelines for team members and new standards for waiting rooms, registration areas and exam rooms.
Helping Patients with COVID-19 Say Goodbye
Stories of patients with COVID-19 who passed away without the ability to say goodbye to loved ones are heartbreaking. Virginia Mason team members in the Critical Care Unit saw that there was a need for a new role overseeing end-of-life visits to COVID-19 positive patients from family members. While it was important for visitors to follow the necessary personal protective equipment (PPE) and safety protocols, it was also necessary to ensure a compassionate approach to saying goodbye.
We launched a new end-of-life care program for COVID-19 patients. Support companion nurses support family members in visiting terminal COVID-19 patients, providing compassionate, empathetic support during a very difficult time.
"We are profoundly inspired by the quick and thoughtful actions of our fellow team members in this critical time, says Charleen Tachibana, RN, senior vice president, Quality and Safety, and chief nursing officer. "This is a wonderful example of how our nurses contribute in ways that are not always visible to our broader community. Thanks to them and to all team members who are coming together and putting patients first, always."
Video Helps Patients with Video Visits
A new instructional video is now available on VirginiaMason.org to assist patients who are seeking care via video visits. The three-minute video guides the patient through the process of downloading the "Virtual Mason" app, then provides step-by-step instructions on what to do on the day of the visit. The video includes helpful tips for patients if they are encountering issues such as not being able to hear or see the provider.
Temporary Modification of CPR Certification and Myles Requirements
If you were due to renew your CPR certification or complete required Myles modules in March, April or May, please note:
Due to safety concerns and patient care priorities, we are not currently offering CPR courses. The American Heart Association has recommended that organizations extend certification periods for health care providers for Basic Life Support (BLS), Advanced Cardiovascular Life Support (ACLS) and Pediatric Advanced Life Support (PALS) certification. We're temporarily extending certification to May 31.

We're also extending the time you have to complete competency modules in Myles. This applies only if you are renewing competencies, not adding new skills (or if you're a new hire). Myles will still show your original due dates and you'll still get alerts from Myles to complete the modules, but you won't be penalized or considered out of compliance.
We'll re-evaluate by May 31 the feasibility and safety of our team members to complete these assignments and let you know the status.
Beware of COVID-Related Scams
Scammers are taking advantage of the COVID-19 crisis to con people into giving up their money. Though the reason behind their fraud is new, their tactics are familiar. It can be even harder to prevent scams right now because people 65 and older aren't interacting with as many friends, neighbors and senior service providers due to efforts to slow the spread of disease. Learn more here.
Staying Healthy During COVID-19
Staying safe and healthy during this crisis impacts every part of our lives, but healthy eating is especially important for keeping your immune system in top condition. Here are some steps you can take to eat healthy in the time of COVID.
Virginia Mason Receives $500,000 Grant from Hearst Foundations
The Hearst Foundations granted $50 million in emergency funding to more than 100 U.S. medical, humanitarian and cultural organizations across the United States that are severely impacted by the COVID-19 pandemic. Only six organizations in the Seattle area – Virginia Mason, University of Washington Medicine, Northwest Harvest, Pacific Northwest Ballet Association, Seattle Art Museum and Seattle Opera – were chosen to receive this funding. Virginia Mason was awarded $500,000.
Message from Chairman and CEO Gary S. Kaplan, MD, and President Suzanne Anderson
The following message to all team members is a summary from the April 9 town hall:
None of us could have ever imagined something like this taking place … a pandemic that affected the organization for weeks, and now is promising to affect us and our entire community for months.
One paradox we've come to appreciate and accept is that we can be very busy in some areas and yet we are extremely light or slow on procedures and surgical cases since we stopped doing elective procedures in compliance with Gov. Jay Inslee's order.
Our team members who have been furloughed are important to us, and they have and will continue to make critical contributions to the organization. We look forward to the time when everyone is back to work full time.
One of the questions asked is "when is that going to be?" And although we can't tell for sure, we do see light at the end of the tunnel. As a team member wrote, "I truly believe Virginia Mason will get through this even stronger than before." We are finding silver linings. That's the Virginia Mason way.
Also often asked is "will we be able to weather this?" And the short answer is yes. We know we will be able to weather this and we know it won't be without change. But also with improving and learning and getting even better as we come out of this. We will not only be able to weather this crisis, we will be stronger.
Firefighters Exchange Thanks with Our Team Members
It was a day of thanks as members of the Seattle Fire Department and American Medical Response visited Virginia Mason to show their gratitude for the amazing work our teams are doing during the COVID-19 pandemic. In return, our team members showed a huge display of appreciation for those first responders. Community spirit was alive and well on our downtown Seattle campus! Here are just a few photos from the day.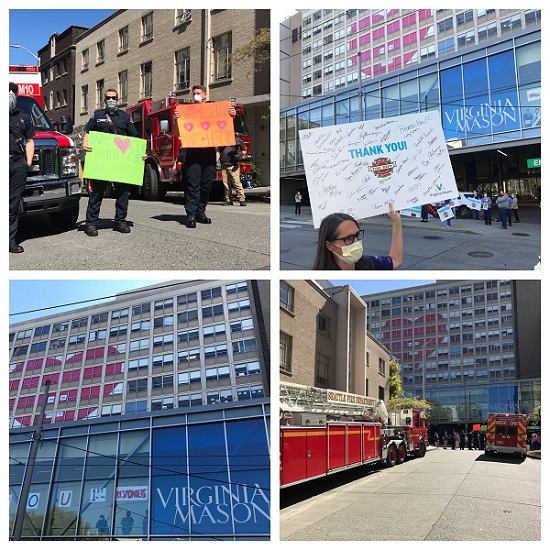 Message from Retirees and Emeritus Physicians
The following message to all team members was sent on behalf of the Virginia Mason Retirees Association and Emeritus Physicians:
We stand with you, Virginia Mason.
Know that while you are on the frontlines of the COVID-19 pandemic, answering the call to protect the health and safety of our community, you are in our hearts and on our minds. In Virginia Mason's 100-year history, we have managed other medical crises, but nothing quite like COVID-19. Thank you for your incredible, selfless, awe-inspiring efforts. This is Virginia Mason's finest hour, and we're proud of you.
We stand with you. We stand together.
Questions About Unemployment?
We know the unemployment process can be confusing. We've answered some of the most commonly-asked questions here. If you have other questions — especially about your specific claim — please contact the Washington Employment Security Department at 800-318-6022 or 877-504-5607. Human Resources can provide information about Virginia Mason policies, but cannot provide advice or guidance on unemployment.
When you apply for standby unemployment, you may receive an automated notice that your request is denied. Your request has NOT been denied — or approved — yet. The Employment Security Department is updating their computer system to reflect COVID-19 changes, and not all the changes have been made yet. Please do NOT refile your standby request after receiving the denial letter. For now, the Employment Security Department will automatically review all standby denials.
Filling Open Positions During the COVID-19 Crisis
We are holding on hiring for most positions during this crisis. We're doing everything we can to get team members on reduced schedules or furloughs back to work as demand increases. If a position needs to be filled during the crisis, we'll first try to match someone on a reduced schedule or furlough who is qualified to temporarily fill the position. This initiative benefits our team members and our patients — the recognized quality of our team members make them ideal candidates to quickly step into temporary assignments, so we can continue to provide extraordinary care to our patients.
New PopUp Market for Grab-and-Go Groceries
Shopping during the crisis has been challenging, and we're doing our part to make it a bit easier. The new PopUp Grocery Market in the Four Seasons Café stocks basic grocery items like bread, rice, oatmeal, flour, sugar and even toilet paper. Depending on team member interest, items like milk, eggs, butter and produce may be added soon.
The market is open to all team members, whether they're currently working or not. We hope to see you at the Market during regular café hours, 6 a.m. to 7:30 p.m., seven days a week.
Feeling Stressed or Anxious? Connect with a Counselor
We know this has been an incredibly stressful time, so we've activated a new online mental health resource for our team members experiencing anxiety or stress from COVID-19. Our partners, Wellspring and BetterHelp, will connect with a counselor at your convenience, in a way that works for you – messaging, chat, phone or video. Start by calling the EAP Access Line: (800) 553-7798.
Livestreamed Harp Music is 'Calm in the Storm'
When Virginia Mason harpist Jessica Gallo could no longer play for patients inside the medical center, she turned to technology for a solution. Jessica, a Certified Music Practitioner, began playing for Virginia Mason patients and families more than five years ago, visiting different areas each week including Critical Care, Progressive Care, the Oncology Infusion Center and the Buck Pavilion lobby.
With patients and team members needing the soothing notes of Jessica's harp more than ever, she decided to go virtual, with a little help from her 13-year-old son as her cameraman. Now patients and care teams can use their devices to catch Jessica's performances live, twice a day, or play them later. The livestream is interactive, so listeners can comment or even send in requests. Jessica has begun creating videos on YouTube of requested music to enjoy anytime.
In Jessica's first week of streaming, grateful team members have already responded, on behalf of the patients and themselves. According to one care team member, the afternoon performance offers every listener "some calm in the storm."
Hear Jessica's livestreamed harp performances Monday – Friday, at 1 p.m. and 9 p.m., on Instagram, Facebook and YouTube. (To search YouTube, enter "Jessica Gallo Harpist.") Catch Jessica's video interview recently on Good Morning America.