Search Virginia Mason News
News Releases
Virginia Mason Opens Neurosurgery Consultation Clinic in Poulsbo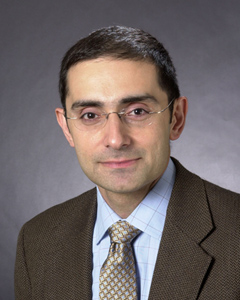 POULSBO – (Aug. 10, 2017) – Virginia Mason today opened its neurosurgery consultation clinic in Poulsbo to serve referring physicians and their patients.
Located at Peninsula Cancer Center, 19917 7th Ave., the clinic will be staffed two days a month by neurosurgeon Farrokh Farrokhi, MD, of the Virginia Mason Neuroscience Institute.
Dr. Farrokhi will provide consultations for spine and neurovascular conditions, brain tumors and deep brain stimulation, a surgical procedure for treating Parkinson's disease and other disabling neurological symptoms.
Physicians and other practitioners may call 1-877-333-0122 to refer their patients for an appointment with Dr. Farrokhi, or go online to VirginiaMason.org/clinicians.
The consultation clinic expands Virginia Mason's presence in Kitsap County. The organization has long had an outpatient medical facility on Bainbridge Island and will be opening its new Bainbridge Island Medical Center in early 2018. The regional medical center will be home to a broad range of primary and specialty services.
About Virginia Mason Health System
Virginia Mason, founded in 1920, is a nonprofit regional health care system based in Seattle that serves the Pacific Northwest. In the Puget Sound region, the system includes 336-bed Virginia Mason Hospital; a primary and specialty care group practice of more than 500 physicians; regional medical centers in Seattle, Bainbridge Island, Bellevue, Federal Way, Kirkland, Issaquah and Lynnwood; Bailey-Boushay House, the first skilled-nursing and outpatient chronic care management program in the United States designed and built specifically to meet the needs of people with HIV/AIDS; Benaroya Research Institute, which is internationally recognized for autoimmune disease research; and Virginia Mason Institute, which trains health care professionals and others from around the world in the Virginia Mason Production System, an innovative management methodology for continually improving quality, safety and efficiency. Virginia Mason online: VirginiaMason.org
Virginia Mason Health System also includes Virginia Mason Memorial, a 226-bed hospital serving the Yakima Valley in central Washington since 1950. Memorial online: YakimaMemorial.org
Media Contact:
Gale Robinette
Media Relations Manager
Virginia Mason Health System
(206) 341-1509
gale.robinette@VirginiaMason.org