Search Virginia Mason News
News Releases
Virginia Mason Opens Urgent Care Clinic in University Village
SEATTLE – (Sept. 2, 2016) – Virginia Mason opened an urgent care clinic today at its medical facility in the University Village shopping center, providing individuals a convenient new option for prompt, appointment-free medical care of minor illnesses and injuries throughout the day, weekend and evenings.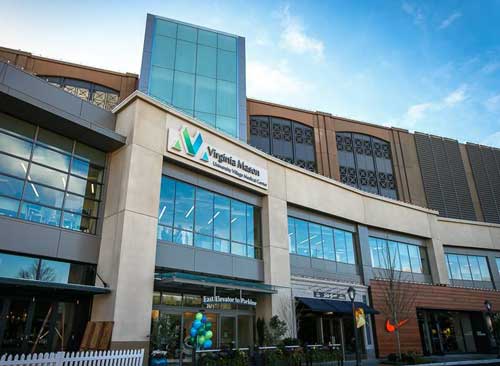 The new urgent care clinic is at Virginia Mason University Village Medical Center.
Walk-in services are available for individuals of all ages. The clinic is staffed by experienced pediatric and adult urgent care providers.
Virginia Mason University Village Urgent Care is at 2671 NE 46th St., Seattle. It is open Monday through Friday from 8 a.m. until 8 p.m., and Saturday and Sunday from 8 a.m. to 6 p.m. The phone number is (206) 525-8000. The clinic is open every day, except Christmas and Thanksgiving. Parking is free.
The clinic treats sprains and strains; burns and cuts; ear aches; stomach aches; diarrhea; nausea; coughs and colds; pink eye; and a host of other, non-life threatening conditions. Most insurance plans are accepted. For more information, please visit VirginiaMason.org/UVillage-Urgent-Care.
Virginia Mason also has urgent care clinics in Federal Way and Bainbridge Island.
About Virginia Mason Health System Virginia Mason, founded in 1920, is a nonprofit regional health care system based in Seattle that serves the Pacific Northwest. In the Puget Sound region, the system includes 336-bed Virginia Mason Hospital; a primary and specialty care group practice of more than 500 physicians; regional medical centers in Seattle, Bainbridge Island, Bellevue, Federal Way, Kirkland, Issaquah and Lynnwood; Bailey-Boushay House, the first skilled-nursing and outpatient chronic care management program in the U.S. designed and built specifically to meet the needs of people with HIV/AIDS; Benaroya Research Institute, which is internationally recognized for autoimmune disease research; and Virginia Mason Institute, which trains health care professionals and others from around the world in the Virginia Mason Production System, an innovative management methodology for continually improving quality, safety and efficiency. Virginia Mason online: VirginiaMason.org
Virginia Mason Health System also includes Yakima-based Memorial Family of Services and Yakima Valley Memorial Hospital, a 226-bed facility serving the Yakima Valley in Central Washington since 1950. Memorial Family of Services comprises primary care practices and specialty care services, including high quality cardiac care, a continuum of cancer care, hospice care, and advanced services for children with special health care needs. Memorial online: YakimaMemorial.org
Media Contact:
Gale Robinette
Media Relations Manager
Virginia Mason Health System
(206) 341-1509
gale.robinette@VirginiaMason.org