Virginia Mason Memorial
Dear Friends,
2016 was a great year for Virginia Mason Memorial. As a stand-alone organization for more than 60 years, we approached the search to achieve smart growth and scale in the ever-changing health care environment deliberately and thoughtfully. Joining the Virginia Mason Health System was the most important and memorable achievement of the year, and likely in our history.
Our shared vision is that patients receive the same high-quality, coordinated care at Virginia Mason Memorial in Yakima or Virginia Mason in Seattle. Moreover, to achieve our vision, we must:
provide the highest quality of care for patients in Yakima
grow patient volume at Virginia Mason Memorial, and
create seamless care transitions when Yakima patients receive care at Virginia Mason in Seattle
Since our affiliation began Jan. 1, 2016, I've witnessed a tremendous amount of sharing, coordination and implementation to achieve our shared vision. And I've seen many benefits as a result of that work; the first being growth.
As part of a two-hospital system, Virginia Mason Memorial is now able to provide services to a greater part of the state and serve more patients in Yakima. We are also able to bring more patients to Virginia Mason in Seattle as we refer people needing specialty care that is unavailable in Yakima. In 2016, we saw a significant rise in the number of patients going to Virginia Mason in Seattle for care who might have previously been sent to other tertiary care centers. We have worked closely to ensure patients can transition smoothly to Seattle for care and return to Yakima, while keeping their doctors and other care providers informed along the way. For the Yakima community, this has resulted in patients having easier access to specialized care through the Virginia Mason Health System.
We have also witnessed increased clinical integration, enabling patients to receive the right care at the right place. We expect to have a unified electronic patient health record within two years. This will allow the care teams to more effectively collaborate on patient care, and will make accessing and sharing information easier for patients.
Our affiliation has the potential to bring more resources (physicians, nursing education, best practices in care, expansion of surgical and specialty care) eastward. Providers are already sharing best practices and working collaboratively through grand rounds and tumor boards, and patients now have a direct link to medical specialties previously unavailable or in limited supply in Central Washington.
Virginia Mason Memorial team members are also busy learning and implementing the Virginia Mason Production System. Learning this system will make our processes more efficient, drive innovation and improve patient-centered care. In time, we believe this will help us lower the cost of care and increase health care value across Central Washington.
I'm excited to see what the future holds. We are committed to ensuring that Virginia Mason Memorial remains the trusted community health care provider and a prominent economic engine in the Yakima Valley. We remain devoted to working with our community to create a healthier Yakima.
Sincerely,
Russ Myers
President and CEO
Virginia Mason Memorial
---
History of Virginia Mason Memorial: A Hospital Built by the Community, for the Community
Virginia Mason Memorial is a 226-bed, acute-care, nonprofit, community hospital serving Central Washington's Yakima Valley. The community-funded hospital, previously known as Yakima Valley Memorial Hospital, opened its doors on June 21, 1950. One of the first patients was a baby born there the next day. But the idea for a second hospital in Yakima came about seven years earlier. "The only hospital in town was St. Elizabeth's," says Russ Myers, CEO, Virginia Mason Memorial. "In 1943, Ed Mueller, an accountant in town, brought his 12-year-old daughter, Carol, in. She had polio. Her parents weren't able to be in the room with her because of overcrowding issues, and she passed away without them. That loss became the catalyst to build another hospital."
As need grew, so did services
Virginia Mason Memorial has grown over the past 67 years and includes more than 20 primary care practices and specialty care services, and three convenient care clinics. Specialty care includes high-quality cardiac care; leading-edge cancer care through North Star Lodge; breast health at `Ohana Mammography Center; acute hospice and respite care at Cottage in the Meadow — a winner of the Circle of Life Award from the American Hospital Association for innovative palliative and end-of-life care; pain management at Water's Edge; an advanced neonatal intensive care unit, the only facility in Central Washington that offers specialty care for at-risk infants, and one of only three Children's Miracle Network Hospitals in the state; advanced services for children with special health care needs at Children's Village; and The Memorial Foundation, a separate nonprofit charitable organization that has raised more than $90 million for innovative health care programs in the Yakima Valley through grants and fund development.
Classes educate residents about healthy living
Virginia Mason Memorial contributes $38 million in direct community benefit, including charity care, community health education and services, health professional education, clinical research and contributions to community groups. With one in three Yakima Valley residents classified as pre-diabetic, the Healthy Yakima program of community health classes has both diabetes prevention and chronic disease management programs that are open to the public.
Memorial is also the largest nonprofit employer in the Yakima Valley with 2,687 employees, including 630 physicians. The Emergency Department (ED), with 24 beds in the main ED and nine in an annex, is the second busiest in the state with an average of 245 visits daily and 89,231 people seen in 2016.
In 2016, Virginia Mason Memorial had:
11,751 admissions
14,971 surgeries
502,456 outpatient visits
2,759 births
---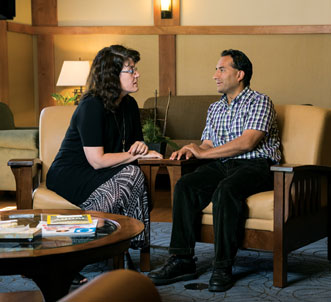 Specialty Clinics: A Mission of High-Quality Care Through All of Life's Stages
Caring for patients right where they live in the Yakima Valley with expert, high-quality care has been Virginia Mason Memorial's mission since it was founded in 1944. When it makes sense for patients to stay in Yakima for care, Memorial stands ready — whether they are in the hospital, at North Star Lodge for cancer care, Children's Village with its advanced services for children with special health care needs, or receiving end-of-life care at Cottage in the Meadow.
Advanced cancer care in a lodge-like setting
North Star Lodge is the centerpiece of Virginia Mason Memorial's cancer care services. Radiation and medical oncologists collaborate with multiple specialists within Memorial's network to develop personalized patient plans. If needed, the North Star team reaches beyond its doors to consult with specialists around the country.
The goal at North Star is to make every patient's journey with cancer as successful as possible. Memorial offered Central Washington's first cobalt therapy unit in 1968 and consistently adopts advancements in the diagnoses and treatment of cancer. This distinctive, one-of-a-kind facility is recognized as one of the most advanced cancer care centers in the Western United States. North Star Lodge's compassionate and dedicated team, technology, clinical trials program and unique facility have made it a leader in cancer treatment.
A place for children to be children first
Children's Village began as a vision among key community organizations and dedicated volunteers to meet the needs of children with special health care needs and their families. Since opening in 1997, the Village has served thousands of children, uniting multiple avenues of specialty care under one colorful roof.
As a collaboration between Virginia Mason Memorial, Yakima Valley Farm Workers Clinic, Comprehensive Healthcare and The Memorial Foundation, the Village provides specialized services for children from birth to age 18 with disorders such as autism and Down syndrome. The Village offers medical specialty clinics, developmental evaluations and collaborative diagnostic clinics, dental services, occupational, physical and speech therapy, mental health counseling, education services, behavioral intervention and nurse home visiting programs. To support families, there is also the Parent to Parent support program.
More than anything, Children's Village is a place for children to be children first. Everyone at Children's Village believes the same thing: Help kids be the very best kids they can be.
Hospice and respite care that feels like home
Cottage in the Meadow is a peaceful, home-like, 24-hour inpatient option to hospital care for patients and their families as part of Virginia Mason Memorial's Compass Care services for end of life. The 12-bed, 16,000 square foot hospice home provides quality hospice and respite care. In addition to providing pain and symptom management for terminally ill patients, Cottage offers comfort and reassurance to families, including spiritual care, nutritional education and bereavement services. Through generous community support from The Memorial Foundation, Cottage in the Meadow opened in 2012. In the fall of 2016, expansion began for a new wing, which will add eight additional private suites.
A new Women's and Children's service was initiated through a partnership between The Memorial Foundation and Virginia Mason Memorial.


---
Sustainability: Patients Benefit from Hospital Garden's Harvest
Virginia Mason Memorial signed on to the "Healthier Hospitals Initiative" in 2015, pledging to improve sustainability, nutrition, financial responsibility and safety in hospital facilities. In 2016, it wasn't long before patients and customers noticed. Desserts, once prominently displayed at the Cafe, were moved to a back corner. More plant-based options began appearing on the menu, encouraging healthier choices.
"There's so much research out there showing the importance and the power of plant-based foods, and how important it is in hospitals to help people heal," says Kate Gottlieb, Memorial's sustainability and wellbeing coordinator.
In March 2016, the hospital brought in chefs for a two-day plant-based cooking class for 16 members of the dietary team. They learned to make food that is both healthy and tasty: garbanzo bean sliders, bananas foster, and black bean and sweet potato burritos — all without meat or dairy products.
Memorial's garden is a valuable resource. Planting ceremonially began on Earth Day, when kids from the hospital's Early Learning Center kicked off the growing season by planting pumpkin seeds. In 2016, the 10,000-square-foot garden produced more than 4,000 pounds of food which was used by the hospital kitchen to serve the 2,650 patient meals per week, along with about 7,200 meals in the cafe for employees and other customers.
In July, Memorial debuted the hospital's weekly summer farmers market for local farms and vendors. Also, many Virginia Mason Memorial team members signed up to receive a weekly CSA (community supported agriculture) delivery of organic and locally grown vegetables and fruit.
Reducing the waste stream by more than 10 percent
Virginia Mason Memorial's efforts in recycling and other activities were recognized with an Environmental Excellence Award from Practice Greenhealth, a nonprofit organization promoting environmental stewardship and best practices within the health care industry.